NEW BOOK RELEASE
Witty memoir—from newlywed bliss to the empty nest—of an attorney who becomes a navy wife and at‐home mom of three.
(St. Paul, MN, May 1, 2020)— Award-winning independent publisher Elva Resa Publishing is pleased to announce the May 1, 2020, release of The Meat and Potatoes of Life: My True Lit Com by Lisa Smith Molinari.
Written in episodes contained in seasons, Lisa's humorous memoir tells her family's coming of age story, unfolding like a sitcom from her first days of falling in love with a navy officer to parenting their quirky and demanding children to negotiating new spaces of an empty nest. Lisa reflects nostalgically on her 1970s childhood, contemplates the trials of twenty‐first‐century technology, explores the realities of midlife marital romance, and comes clean about her secret desire for canned cranberry sauce.
"Telling real stories helps me see the underlying meaning in my chaotic routine as a wife and mom," she says. "When I pause to reflect on my reality, I always find some nugget of truth to hold onto, something to place me on solid ground, and lots of gibberish to laugh about, even in the tough moments."
Lisa's writing career began during one of her husband's military deployments when she was feeling particularly overwhelmed by the demands of parenting on her own. She began scribbling on a yellow legal pad during her kids' swimming lessons, recreating scenes from her daily life.
"Writing became my lifeline, a way to bring order to the chaos and to find a way to laugh at everyday events," Lisa says. "It's a way to sort through the nonsense, to whittle life down to what really counts."
After one of her essays was published in The Washington Post, Lisa turned her writing lifeline into a career as a syndicated columnist. Her weekly column now appears in dozens of newspapers worldwide including Stars and Stripes. Her memoir is based on her column of the same name.
With a balance of wisdom and levity, The Meat and Potatoes of Life is a literary comedy for book lovers who like poignancy with a generous side of wry humor.
About the Author
Lisa Smith Molinari is an award‐winning syndicated columnist, author, and speaker. Her column The Meat & Potatoes of Life appears weekly in Stars and Stripes and other newspapers around the world. A member and past president of the National Society of Newspaper Columnists, Lisa has been published widely in a variety of newspapers, magazines, and books, including The Washington Post; Military Spouse magazine; Stories Around the Table: Laughter, Wisdom, and Strength in Military Life; and two
editions of Chicken Soup for the Soul. She is a member of the Pennsylvania Bar Association and District of Columbia Bar Association. Lisa lives in Jamestown, Rhode Island, with her husband and dog.
###
ELVA RESA PUBLISHING LLC is an independent publisher based in St. Paul, Minnesota, with a mission to make a positive difference in people's lives. Its primary imprint specializes in books for and about military families. ElvaResa.com, MilitaryFamilyBooks.com
MEDIA: Please contact Elva Resa PR at 651-357-8770 or pr[@]elvaresa.com.
Cover images: ElvaResa.com/book/Meat‐and‐Potatoes‐of‐Life
Author bio and headshot: ElvaResa.com/author‐illlustrator/Lisa‐Smith‐Molinari
Author website: TheMeatandPotatoesofLife.com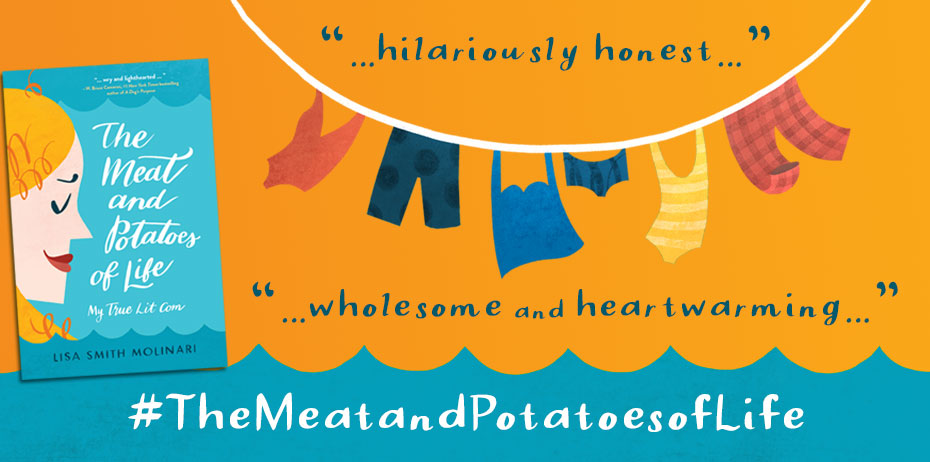 Reviews of the book
The Meat and Potatoes of Life: My True Lit Com, released May 1, 2020, is available everywhere books are sold. Trade distribution through Independent Publishers Group (IPG). Bulk and case ordering
available at MilitaryFamilyBooks.com.
Title: The Meat and Potatoes of Life: My True Lit Com
Author: Lisa Smith Molinari
Publisher: Elva Resa Publishing
Publication Date: May 1, 2020
Hardcover ISBN 978‐1‐934617‐54‐0, 256 pages, $26.95
Ebook ISBN 978-1-934617-55-7 $9.99
Kindle ISBN 978-1-934617-56-4 $9.99
#TheMeatandPotatoesofLife #MyTrueLitCom #PonderingsfromthePantry #ItsAlmostDinnertime
The Meat and Potatoes of Life
Facebook: /TheMeatandPotatoesofLife
Press page:  ElvaResa.com/book/Meat‐and‐Potatoes‐of‐Life
Lisa Smith Molinari
Web: TheMeatandPotatoesofLife.com
Twitter: @MolinariWrites
IG: @lsmolinari