OCTOBER 14, 2014
Elva Resa Selects Operation Homefront to Benefit From 2015 Book Proceeds; Sales of Stories Around the Table to Help Military Families in Need
(WASHINGTON, DC)—Elva Resa Publishing announced today that Operation Homefront has been selected as the primary beneficiary to receive a portion of proceeds from 2015 sales of Stories Around the Table: Laughter, Wisdom, and Strength in Military Life, a collection of personal stories from more than forty military family writers. Elva Resa released the book October 1 and officially launched the book at the Association of the United States Army (AUSA) Annual Meeting with meet-the-authors book signings on Monday and Tuesday.
Sixteen of the more than forty authors of Stories Around the Table gathered for dinner at the National Press Club in Washington, DC, Tuesday evening to celebrate the launch of the book and welcome Operation Homefront to the table.
"From the inception of this project, it has been our intent to share proceeds from the book with organizations that serve military families who need support beyond what a book or a table of friends can provide," says Karen Pavlicin-Fragnito, publisher at Elva Resa. "Operation Homefront has a large reach into communities across the nation. We wanted to help as many military families as possible with this project, and Operation Homefront is in a position to reach those families in need both geographically and those facing a wide variety of life challenges."
The process of selecting a primary nonprofit beneficiary included input from the book's authors, a financial review, and interviews with organizations that met predetermined criteria. Editor Terri Barnes says, "We involved the authors in each step of the selection process because we wanted every author to be able to support the choice of organization. We had a list of excellent organizations to choose from. Many of our authors have led or attended Operation Homefront events and have seen firsthand the good work they do in our communities. We're looking forward to strengthening that connection and reaching even more military families."
Elva Resa has elected to restrict its donation to benefit Operation Homefront's relief and recovery programs. "Operation Homefront has two programs we are especially interested in supporting," says Pavlicin-Fragnito. "Their relief program assists military families during difficult financial times. And their recovery program offers transitional housing for injured veterans and support for caregivers."
Two of Operation Homefront's team members attended the National Press Club author dinner: Ebony Strange, director of special events, and Tom Greer, vice president of communications and outreach.
"At Operation Homefront, we recognize the importance of storytelling as a way to celebrate what it means to serve and to offer insight for the unique sacrifices military families make every day for all of us," says Greer. "We're grateful to Elva Resa Publishing and the authors of Stories Around the Table for choosing us as their philanthropic partner, so that we may help more military families with emergency financial and other assistance."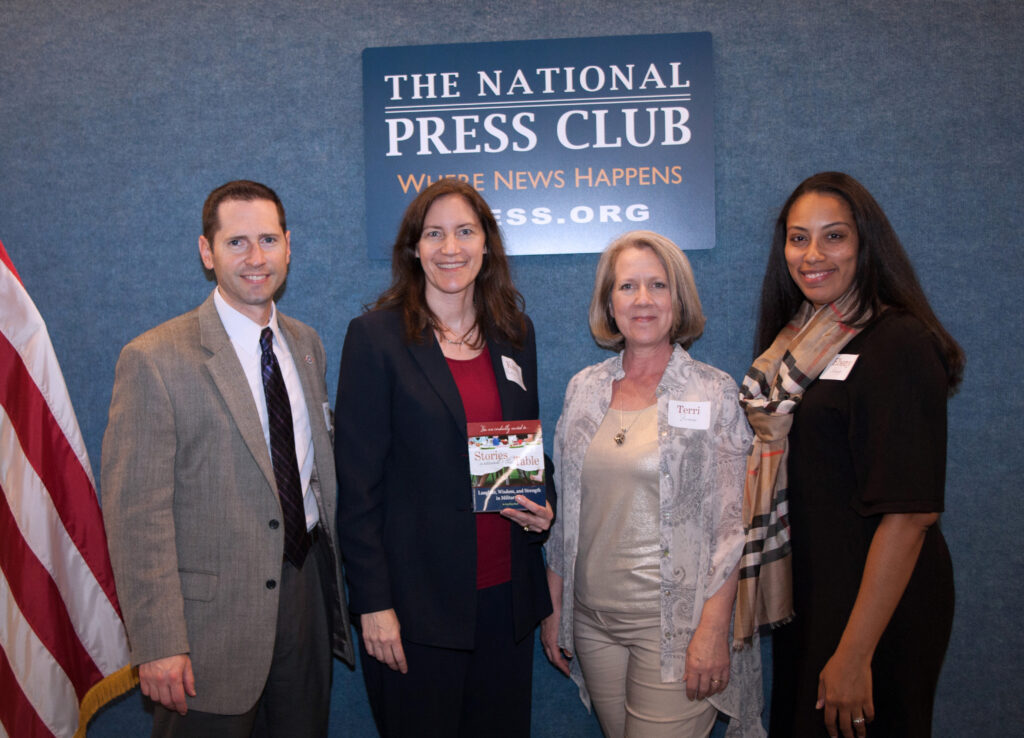 About Operation Homefront
A national nonprofit, Operation Homefront leads more than 2,500 volunteers with nationwide presence who provide emergency and other financial assistance to the families of service members and wounded warriors. Operation Homefront has provided assistance to thousands of military families since its inception in 2002. Recognized for superior performance by leading independent charity watchdog groups, nationally, 93 percent of total donations to Operation Homefront go directly to programs that provide support to our military families. For more information, go to www.operationhomefront.org.
About the Book
Title: Stories Around the Table: Laughter, Wisdom, and Strength in Military Life
Authors: More than 40 military family members
Publisher: Elva Resa Publishing
Publication Date: October 1, 2014 
More information: ElvaResa.com
Available from: MilitaryFamilyBooks.com, select military exchanges, major booksellers and wholesalers
ISBN: 978-1-934617-29-8
Retail Price: $14.95
Format: 6″x7″ Paperback, 272 pages
Sharing stories, like sharing a meal, connects people. This collection of personal stories reads like friends gathered around a table. More than forty military family members—spouses, parents, children, and service members—share both everyday and extraordinary moments from their military life experience.
From poignant to practical, tragic to humorous, these candid conversations shed heartfelt insight on many aspects of life from a military life perspective: friendship, romance, marriage, parenting, career challenges for spouses, children with special needs, infertility, moving, transitions, changing schools, overseas assignments, deployment, renewing relationships after deployment, finances, post-traumatic stress, combat injury, depression, grief, faith, and more.
Stories Around the Table is available at MilitaryFamilyBooks.com and other retailers.
About the Authors
More than forty military family members, from well-known to emerging writers and advocates, contribute to Stories Around the Table, including: Sarah Smiley (Dinner With the Smileys), Tanya Biank (Army Wives), Jocelyn Green (The 5 Love Languages Military Edition), Kristin Henderson (While They're At War), Artis Henderson (Unremarried Widow), Jacey Eckhart (Military.com), Adrianna Domingos-Lupher (MSB New Media), Chris Pape (MachoSpouse.com), Lori Volkman (The New York Times At War), and Sara Horn (GOD Strong; WivesofFaith.org).
For a full list of authors, please visit: Stories Around the Table authors
###
ELVA RESA PUBLISHING LLC is an independent publisher based in St. Paul, Minnesota, whose mission is to make a positive difference in people's lives. Its primary imprint specializes in books for and about military families. www.ElvaResa.com, www.MilitaryFamilyBooks.com
MEDIA:
Please contact Elva Resa PR at 651-357-8770 or pr@elvaresa.com for more information, to arrange an interview, or to receive review copies of the book. For questions about Operation Homefront, please contact Tom Greer, 240-403-7294.
Additional resources:
ElvaResa.com
OperationHomefront.net
More about Operation Homefront's programs: OperationHomefront.orghowwehelp
Facebook: /StoriesAroundTheTable
Twitter: @StoriesTable