March 2018
(St. Paul, MN)— Award-winning independent publisher Elva Resa Publishing is pleased to announce that N is for Never Forget: POW–MIA A to Z, a middle grade picture book written by Nancy Polette and illustrated by Paul Dillon, has been named a finalist for Best Juvenile Nonfiction Book of the Year in the 2017 Foreword INDIES Book of the Year Awards.
The INDIES Book of the Year Awards recognize outstanding books from independent publishers and university presses. More than 2,000 entries spread across 68 genres were submitted for consideration this year. The list of finalists was determined by the editorial team at Foreword Reviews. Winners are now being decided by a panel of judges across the United States, reflecting Foreword Reviews' readership of booksellers and librarians. Winners in all genres will be announced June 15, 2018.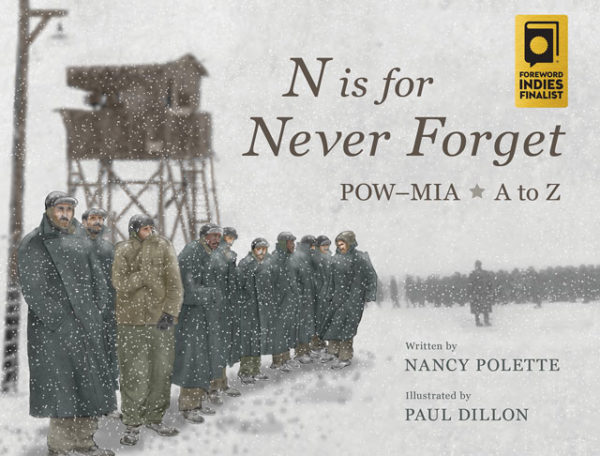 N is for Never Forget: POW–MIA A to Z presents a compelling journey through wartime history, commemorating the legacies of prisoners of war (POWs) and missing in action (MIA). More than one hundred thousand American service members have been captured by an enemy and imprisoned during war. Tens of thousands are still missing. From Geneva Conventions to Operation Homecoming, Tap Code to Yellow Ribbon and more, N is for Never Forget uses an alphabet framework to tell the true stories of many POWs and MIA from World War I to present day.
"We are honored to have this meaningful book recognized," says Elva Resa's publisher Karen Pavlicin-Fragnito. "Nancy and Paul have made this difficult topic accessible to children. More than a collection of stories, N is for Never Forget sparks important conversations and inspires young readers to ponder our past in order to create a better future, extending the foundation of freedom built by the sacrifices of brave men and women like those portrayed in this book."
Written for ages eight years and older, the book's engaging format interests readers of all levels. Single lines of text describe each letter's key message, while longer true stories complement full-page color illustrations. Based on historic photos, records, and first-hand accounts, the poignant illustrations and stories depict key people, places, and events in memorable ways. The alphabet format affords multiple styles of reading: picture to picture, single lines summarizing each letter, full stories as a collection, or one or two stories at a time. The intentional design encourages readers to pause for reflection within any reading experience.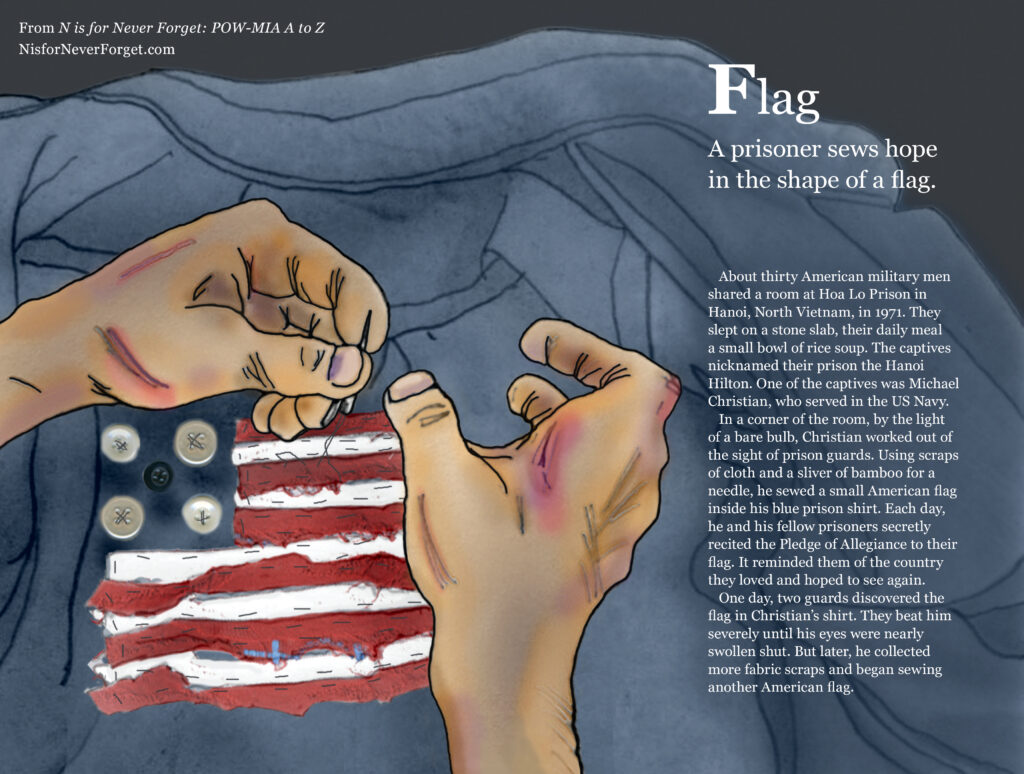 In the back of the book, "Topics to Discuss" and "Ways to Honor" sections promote critical thinking and calls to action to develop compassionate leaders of the future. Going beyond absorbing storytelling, the book prompts meaningful discussions at the dinner table or in the classroom, and it makes a good pairing for veterans-appreciation events as well as history extension, character development, and leadership programs.
About the Author
Nancy Polette has written more than 170 books for youth. An elementary school teacher for thirty years, she also spent thirty-seven years as a professor of education at Lindenwood University and director of the Laboratory School. Her other books include The Spy With the Wooden Leg: The Story of Virginia Hall. Nancy lives in O'Fallon, Missouri, a suburb of St. Louis.
About the Illustrator
Paul Dillon is an accomplished illustrator and cartoonist whose work has appeared in more than thirty children's books and a variety of periodicals. Paul is president of the Jefferson Barracks POW-MIA Museum, near St. Louis, Missouri. He served in the US Army assigned to the 6th PSYOPS Battalion (ABN), Fort Bragg, North Carolina. Paul's dad, Richmond Dillon, was a World War II B-17 ball turret gunner flying with the 95th Bomb Group based in Horham, England. Shot down in October 1943, Richmond was a POW for twenty months in Stalag 17B.
N is for Never Forget: POW-MIA A to Z is available from major booksellers, Amazon.com, and MilitaryFamilyBooks.com. A limited number of first-edition hardcovers with keepsake jackets are available in single copies from MilitaryFamilyBooks.com and the Jefferson Barracks POW-MIA Museum.
###
ELVA RESA PUBLISHING LLC is an independent publisher based in St. Paul, Minnesota, whose mission is to make a positive difference in people's lives. Its primary imprint specializes in books for and about military families.  ElvaResa.com, MilitaryFamilyBooks.com
MEDIA: Please contact Elva Resa PR at 651-357-8770 or pr@elvaresa.com.
Title: N is for Never Forget: POW–MIA A to Z
Author: Nancy Polette
Illustrator: Paul Dillon
Publisher: Elva Resa Publishing
First Published: December 7, 2017
ISBN: 978-1-934617-36-6
Format: 12″ x 9.125″ Hardcover 40 pages
Audience: Ages 8+, grades 4+
Retail Price: $16.95
Category: Middle grade picture book
BISAC:  YAN025130  YOUNG ADULT NONFICTION/ History/ Military & Wars;
JNF025130  JUVENILE NONFICTION/ History/ Military & Wars
More information and cover images: ElvaResa.com/book/never-forget
Buy direct: MilitaryFamilyBooks.com
Reviews:
"Children are encouraged to honor many unsung heroes while celebrating themes of honor, justice, devotion, and sacrifice." —Foreword Reviews
"…packed with riveting real-life stories, fascinating facts about POWs and MIAs, and unique art and illustrations." —Stars and Stripes
"…ideal for a classroom discussion or for families who are looking for meaningful ways to honor veterans in their communities." —Military Spouse Book Review