Military Writers Society of America Awards Silver Medal to Spouse Calls: Messages From a Military Life by Terri Barnes
September 2017
(St. Paul, MN)— Award-winning independent publisher Elva Resa Publishing is pleased to announce that Military Writers Society of America has awarded a Silver Medal for Memoir to Spouse Calls: Messages From a Military Life by Terri Barnes. A professional military writers organization, MWSA honors members' works that exemplify the highest quality standards, with a primary focus on storytelling.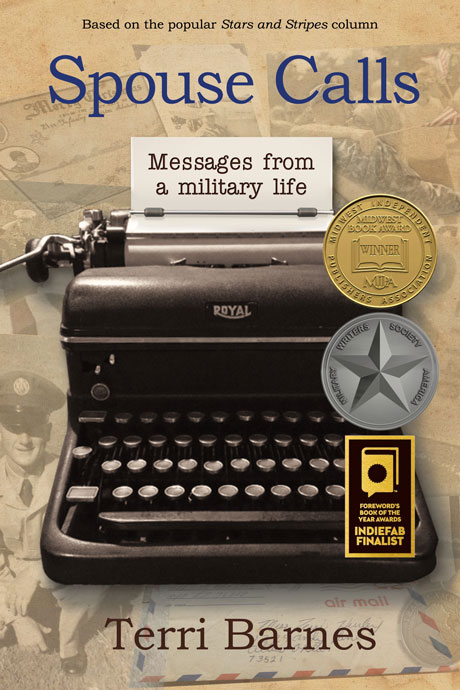 Based on Terri's award-winning Stars and Stripes column of the same name, Spouse Calls features a collection of select essays on a wide range of topics: motherhood, faith, friendship, family ties, war, current events, sacrifice, PTSD, moving, homecomings, and more. As a wife and mom, Terri highlights important, pivotal moments in her own family's life as well as others', in essays that resonate with both military and nonmilitary families.
"Many of the issues military families face are the same ones every American family faces, just in a different setting—a different setting every two or three years, in fact," says Terri. "Moving colors our lives and complicates our marriages, parenting, and relationships with extended families. Moving and deployment are not military families' only topics of conversation, but they are the backdrop, the setting, the environment of our lives."
Through poignant personal stories, incisive interviews, and emotive reflections, Terri creates an historical snapshot of American and world affairs, preserving an important piece of our nation's culture.
First released in paperback in March 2014, Spouse Calls: Messages From a Military Life was previously awarded Gold/First Place in the Midwest Book Awards for Best Current Events/Political Science Book of the Year and was named a finalist for Best Essays in ForeWord Reviews' INDIEFAB Book of the Year Awards.
Terri's Stars and Stripes column on which the book is based was also recognized by The National Society of Newspaper Columnists, earning second place in the nation for the best general interest column in a newspaper under 50,000 circulation. NSNC judges commended her for writing "with insight and remarkable sensitivity," calling her columns "masterful" and "powerful."
About the Author:
Terri Barnes is an accomplished journalist. Her work has appeared in Stars and Stripes, Air Force/Army/Navy Times, The Huffington Post, Books Make a Difference, and other newspapers, magazines, and base publications worldwide, as well as in several books about military life. She was the creator of Spouse Calls, a weekly Stars and Stripes column about military life that ran for eight years as one of the first widely-distributed military family life columns. Her award-winning book, Spouse Calls: Messages From a Military Life is a collection of her best columns from 2007-2013.
Terri is also the editor and a contributor to Stories Around the Table: Laughter, Wisdom, and Strength in Military Life, a collection of personal essays from more than forty military family writers about their military life experience. Stories Around the Table was awarded Silver for Best Anthology of the Year in ForeWord Reviews' INDIEFAB Book of the Year Awards and named a Silver Finalist in the Midwest Book Awards.
Terri's expertise in military life comes from long experience. Her father was a Vietnam veteran and career military man. Her Air Force husband, Mark, recently retired after thirty years of active duty service. The couple now resides in Summerville, South Carolina. They have three adult children.
Spouse Calls: Messages From a Military Life is available in paperback and ebook from major booksellers, Amazon.com, and MilitaryFamilyBooks.com.
###
ELVA RESA PUBLISHING LLC is an independent publisher based in St. Paul, Minnesota, whose mission is to make a positive difference in people's lives. Its primary imprint specializes in books for and about military families.  ElvaResa.com, MilitaryFamilyBooks.com