Gold Star mom Deborah Tainsh spoke to graduating US Army cavalry scouts from the 5th Squadron 15th Cavalry Regiment Echo Troop at Fort Benning, Georgia, on October 10, 2019.
Tainsh Barracks, which houses members of the 5/15 Cavalry at Fort Benning, was named for Deborah's son, Sgt. Patrick Tainsh, a cavalry scout who was killed in action February 11, 2004 while serving in Iraq. He was a recipient of the Silver Star. Deborah's book, Heart of a Hawk: One Family's Sacrifice & Journey Toward Healing, is about Patrick's life.
Deborah is a frequent speaker for graduating classes of the 5/15 Cavalry.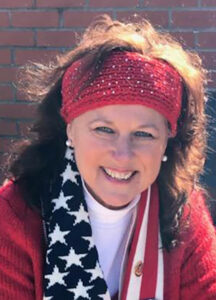 "Since I live six miles from Ft Benning, I make it a point to introduce myself to the leadership of the 5/15 Cavalry Regiment and the leadership at Tainsh Barracks and offer to be of support to the troops and their families through my experience as a former military spouse and mom," she says. "It is important to me that they learn about the life of the young man and soldier behind the name Tainsh on a sign outside the barracks."
Speaking to the group of 148 soldiers before their graduation ceremony on Oct. 10, Deborah talked about the effort required to succeed.
"Your success is about growth," she said. "It's up to you to reach for the next level and continue to grow with your training and knowledge to excel as a soldier wherever your orders take you after graduation today; and never forget the importance of being a friend, teacher, leader, and holding to your warrior ethos."
After sharing some of Patrick's story from her book, Heart of a Hawk, Deborah read from a letter Patrick wrote for his parents, given to them after his death.
"It was an honor to fight and die with the American flag on my shoulder," he wrote. "Honor, that's a big word, and some don't know what it means. It's not something that happens right away. It's something that builds up inside your soul. My greatest fun in life was my job as a US Army Cavalry Scout."
Deborah closed her remarks by telling the students, "You are my future and the future of America and thank you for being a part of those willing to stand for the rest of us."
She says telling Patrick's story is inspiring for young soldiers, and at the same time it is healing for her.
"As military family survivors, our new norm with learning to live and cope with our grief and to fill our voids is through the gift of opportunity to tell our stories," says Deborah. "We keep our loved ones alive by calling their names … and let their lives be a manner of teaching others in all walks of life about choice, overcoming, commitment, courage, friendship, loyalty, love, sacrifice, redemption and so much more."